Embed your future building within its actual environment
A marketing tool for your projects' promotion
At Devisubox, we now offer our customers the possibility to embed a 3D building model of their project into some "actual" pictures of said project – these can be drone pictures or photoboxes pictures. Thanks to the 3D embeddings, you obtain a better understanding of the project's final rendering and you gain a fantastic tool during its construction phase.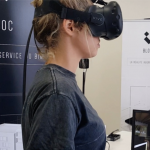 Viewing with a VR headset
If the 3D building is embedded into a 360° panoramic drone view, then it is possible to have an immersive experience with a VR headset.
---
A construction site monitoring tool
Checking the construction's conformity as a whole and at the end of the project measuring the potential differences between the plans and its finished version.

Getting a better understanding of the site monitoring pictures by juxtaposing the current step with the final construction.

Proving the builder manages his construction site and is fully transparent
UpperNord Tower, Düsseldorf
---