Devisubox photo Boxes and Webcams are autonomous and ultra HD
Devisubox webcams pilot a Reflex camera.
They need no cabling: They work with solar energy and send photos in real time over the Internet with a 3G connection.
Our webcams provide Time Lapse: They can take tens of thousands of photos over several years to create accelerated films.
cable-free: solar powered and 3G transmission
The Devisubox camera is completely wireless. It can be installed on the best view points of your construction sites, without telecom or power connection constraints. It is waterproof (standard IP68) and works at a temperature range from -20°C to +55°C.
Wireless transmission of photos: 3G or Wi-Fi
The photo box/the Devisubox camera sends a part of its photos directly by a 3G or Wi-Fi mobile Internet connection. It can also be connected by an Ethernet/IP wired connection.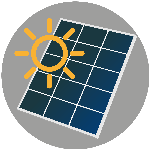 Solar supply
The Devisubox webcam is supplied with a solar panel. It recharges a battery which allows it to work autonomously for several weeks during the most harsh winter periods. It can also be connected to a mains supply to work indoors.
---
Devisubox photos and optics are ultra HD
We offer two boxes with different photo qualities.
The Maxibox with professional photo quality
The Maxibox pilots a Nikon DSLR. It allows the attachment of all types of the Nikon lense range: from the
the ultra large angle
to the
telephoto lenses
.

the Nikon boxes which are specifically compatible:
Nikon D3000 – 10 million pixels
Nikon D3100 – 14 million pixels
Nikon D3200 – 24 million pixels
Nikon D3300 – 24 million pixels
The Minibox with a mid-range quality
The Minibox pilots a video-sensor with 2 to 5 million pixels. Its lens is based on entry-level quality, with a view angle set at 72° from the ground.
---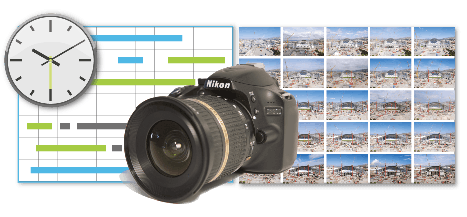 The taking and storage of photos are optimised
There are several ways to take photos:
With a single click on our online interface
In automated mode with programmable time slots remotely
Combinations of multiple time slots
Several programmable time slots can be programmed simultaneously, following seconds, minutes, hours, days of the week, for any given period of time.
Therefore it is possible to optimise the rhythm of photo capture:
Programming of time slot is intensified during daylight hours (We also have algorithms to adjust these parameters in accordance with the seasons and calendars)
Decrease of the time slot during the night or over the weekend to save on the number of photos being taken
Very advanced time slot parameters
Exposure and resolution can be set up for each time slot.
The time slot also specifies if the photos should be sent in real-time via the Internet, or if they should be stored locally in the box (storage capacity of ten thousand photos on one SD card of 32 to 128GB).
In order to create an accelerated film (Time lapse), we advise to program between 200 and 500 photos per day (a few of them are sent in real time and are available online on personalised interface).
---
The installation tools meet the needs of the construction industry
Our box is managed from a Smartphone application which allows to check its operational status.
Devisubox design and manufacture a range of installation supports, suitable for different installation configurations:
Roof palette for roofing
Freestanding telescopic mat
Universal installation supports

---
Prices
Find out more about
the price list