Photo monitoring from a fixed point – Time Lapse and Monitoring – Our range of services
We offer an all-inclusive service for the photo monitoring of a project from a fixed point. Photos are taken at regular intervals and sent via an online progression monitoring platform. At the end of the project, we offer a Time Lapse film (audiovisual production of an accelerated film).

We offer you a complete service:
---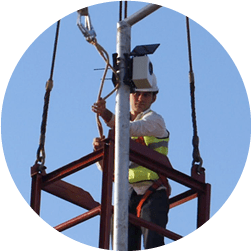 Installing photo boxes
Our cameras are wireless. They require no mains supply connection (solar powered), and they send their photo via the Internet using mobile Internet connection (3G). They can be installed in the most inaccessible places to offer the best view points: roofing, lamppost…
Our audiovisual technicians suggest the best viewing angle options from your maps or tracking on the ground. They analyze the technical constraints of the installations, respecting the necessary authorisation process for the project.
We install and ensure the maintenance of our photo webcams for the whole duration of your project. Included in our offer, an anti-theft guarantee of our webcams, and we have civil liability insurance specific to our activity.
Find out more about our
autonomous HD cameras
---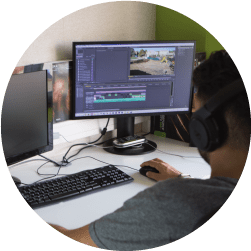 Progression monitoring on the Internet
Our boxes send part of the photos over
our progression monitoring platform
.
We offer different
levels of Internet integration
of this interface:
Simple access from our site with a password (No integration)
Integration into your website from our interface with your corporate identity and style guides and your editorial constraints. This integration can be carried out by us, or by your technical department, with our Devisubox plugins
Creation of a complete website dedicated to the construction of your project
System configation assistance in accordance with your distribution objectives:
Internet promotion
Extranet access for your partners or clients
Intranet access for your in-house teams
Our platform offers numerous other options dedicated to construction monitoring. You can specifically supply the platform and the website using our Android or iPhone software. It allows you to take photos and to reference them in different configurable sections (find out more about progression monitoring with Android or iPhone)
Find out more about our
progression monitoring platform
–
Interface example
---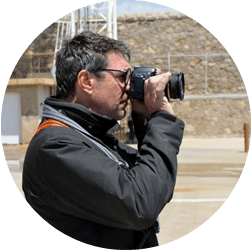 Audiovisual field reports
We include an option of the audiovisual monitoring of your constructions in our services
We have a standard offer included in our service: Photos or video reports carried out on-site while working on installation, maintenance or dedicated services.
Our on-site technicians have initial photography or video editing training. They carry out the installation and create video montages in order to ensure a quality service over the whole of the project.
We integrate these audiovisual elements to enrich your construction site monitoring interfaces and your promotional films.
---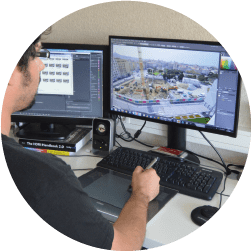 Audiovisual production of professional films – Time Lapses
At the end of the construction site, our driven individuals create a promotional film of the construction from Time Lapse sequences. They are created from photos taken at regular time intervals. They stage your construction site with a storyline, and retrace the history of your construction site in a few minutes.
We also integrate into our films, audiovisual complements captured on-site during our work: artistic photos, robotic sequences, interviews, filming sequences. Our editors create a specialist piece of work from our Timelapse Editor software suite:
Fine selections of photo sequences to integrate or to delete (certain projects have more than 100,000 photos)
Stabilisation of photos (Vibration removal of view points)
Balancing of light and colours
Editing of scenes with zoom or travelling effect (Made possible with our photo resolutions more than 10M Pixels)
For communication companies, we provide you with a suitable solution for different levels of integration.
Find out more: Example of construction Timelapse – Our Time Lapse Editor software suite
---
Prices
Find out more about
the price list