The construction monitoring platform – Data "cloud"
The Devisubox platform allows real-time monitoring of your construction via the Internet. Your teams or your suppliers have immediate access to the photos and can take additional pictures on the field, managing them directly on their Smartphone.

The platform is personalisable and modular. It can serve different purposes: public promotion, Extranet partner access, or in-house technical Intranet for your teams.

Photos managed by the Devisubox platform can come from several sources: Devisubox cameras, Photo equipment, and your Smartphones equipped with Devisubox application Smartphone Report.
Thanks to the Devisubox interface your construction sites are just a click away, wherever you may be. But its options aren't just limited to a construction site monitoring interface, it also is an organised library of your project, an easy way to share pictures, etc… Learn how to use this very helpful tool with our tutorial, in under 1min30 you will explore its 4 dimensions and many possibilities.
Photo Selection
Access your Photos through different filters:

It is possible to filter photos using different criteria: aesthetic quality, private or public access level, construction site stages, photo source, site sector.
---
Adding information to photos
Aesthetic quality: The most beautiful photos can be selected for different usages: slide show, paper print, etc. We can manage this service for you.
Construction site stages: The key stages of the construction can be indicated to reproduce a summary view of the construction site's history.
Job section: Photos can be sorted by site sectors: Batches, test points, defects… These sectors can be arborescent, particularly useful when taking technical photos with a smartphone: Find out more about technical monitoring management
---
Levels of access
The platform allows different levels of access:
Public: Free access without password (optional)
Extranet: Secure Access for your partners
Intranet: Full Internal access
The system then provides configuration of access rights in accordance with levels of access:
Access to all or part of the construction sites and projects
Access to private/public photos
Option to capture photos from the box
Option to validate photos
Photos are also visible in accordance with rights and a validation flow:
Private/Public: A photo can be visible to your client or remain in internal access. For example, you can, by default, pass on all photos from the box to your client and reserve yourself the right to publish or not publish a photo taken from your Smartphone.
Publication status: The photo can be subject to validation before being published. This validation can be automatic if no counter-validation has been indicated at the end of a configurable timeframe.
---
Construction site management
Construction sites can be sorted by agency, then by project manager. A monitoring view allows you to see the latest photo from each construction site and to check at a glance that the construction site is progressing well.
Construction site information can be completed by:
Importing the site plan
Importing the plan of access
Brochures and other promotional documents
Each one of the construction sites can also be mapped with its GPS position: either directly from Google Maps, or from our Smartphone software. Construction sites can be seen on Google Maps in accordance with their different levels of progression.
---
Integration into a website
We offer different options of Internet integration:
Beginner level: Integration from a simple Internet link
Webmaster level: Making available a plugin or tools for your Webmaster
Turn-key solution: a range of complete websites from template, specially designed for the construction industry
Beginner level: integration by link
We supply you with a direct Internet link that you only need to integrate into your website. From our interface, you personalise your interface with a banner and configurable background colours.
You can also integrate the latest photo into your platform.
Webmaster level: Integrating Devisubox Viewer
We make available a viewer plugin: This plugin is autonomous. It allows access to photos with different browsing or consultation options: full screen mode, zoom thumbnail, slide show mode…
Integration with a link by our client, Bouygues Immobilier : Château Valmante residential development in Marseille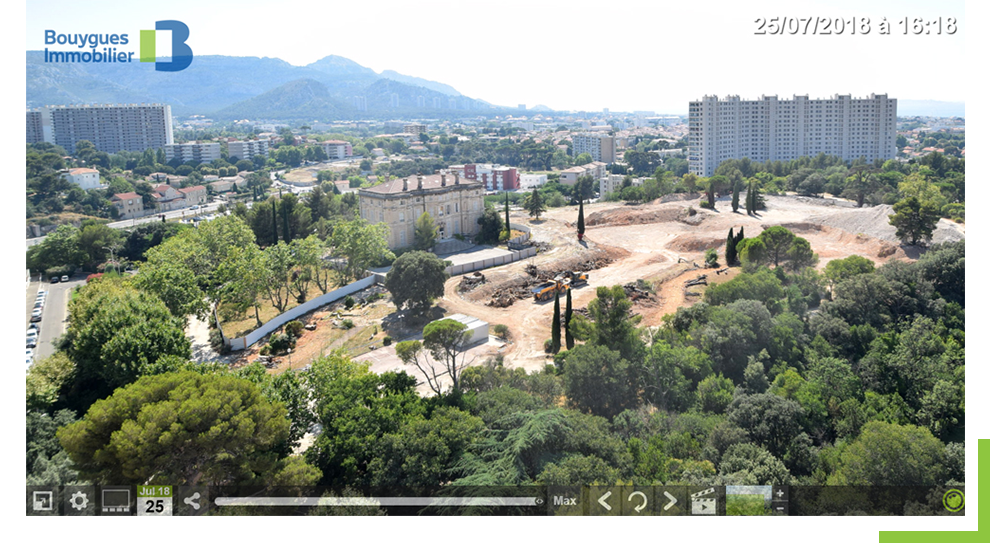 Integration of the Devisubox viewer on a dedicated web page : Tramway T3 extension in Paris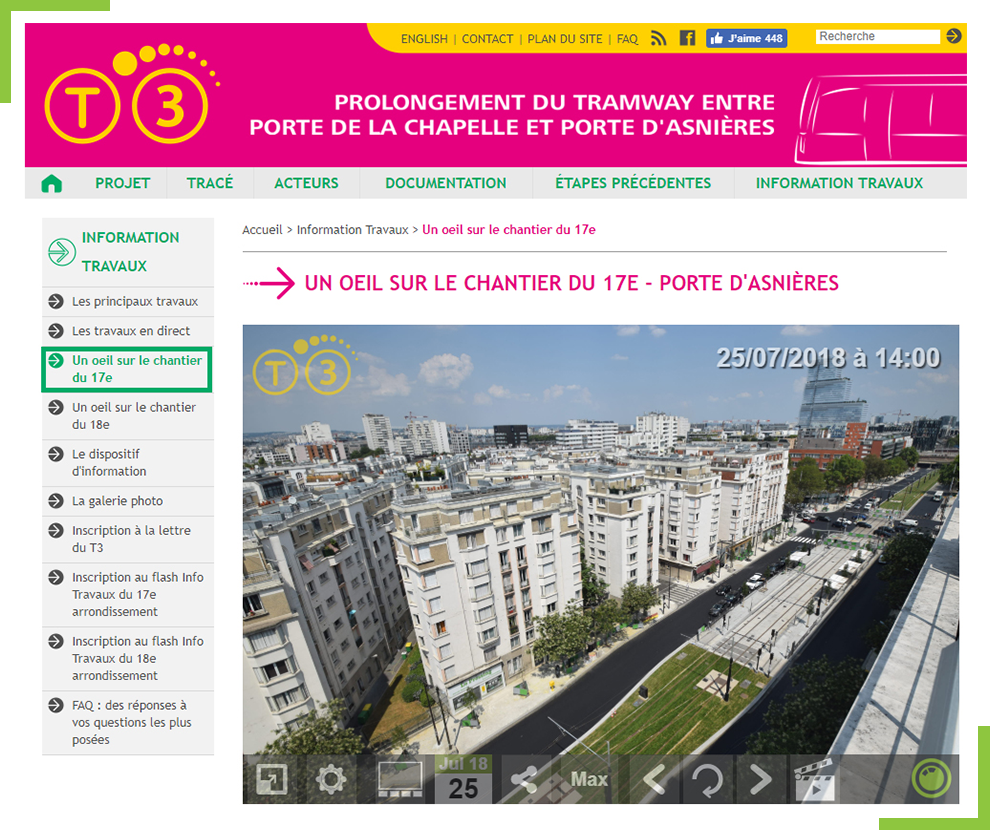 ---
The creation of a website dedicated to your construction site
We create a complete website from our library of modules, specially designed for the construction industry.
This site is based on the foundations of the global leader, WordPress. It is scalable and can be supplied with content by your teams, or be the subject of technical improvement by your I.T. engineers.
Directly integrable modules are:
Intranet access for your teams: construction site management by our platform
Intranet access for your clients or partners
Mapping: Plan of access, map of all the installations
Technical documents: site plan…
Brochure
Slide show: monitoring in real time, key photos of progression
Page types: About us, partners,
---
Summary of technical information with Smartphone
Pick up information at its source in the field!
Technical information regarding the monitoring your construction sites can be accessed directly in the field by our Smartphone-friendly software. It is accessible in the "cloud" on our platform.
Our software installable directly on your smartphone. It synchronises with your Extranet to access your construction sites. Therefore simply select a construction site to start accessing information: taking photos, sorting photos and optional audio commentaries (dictaphone function).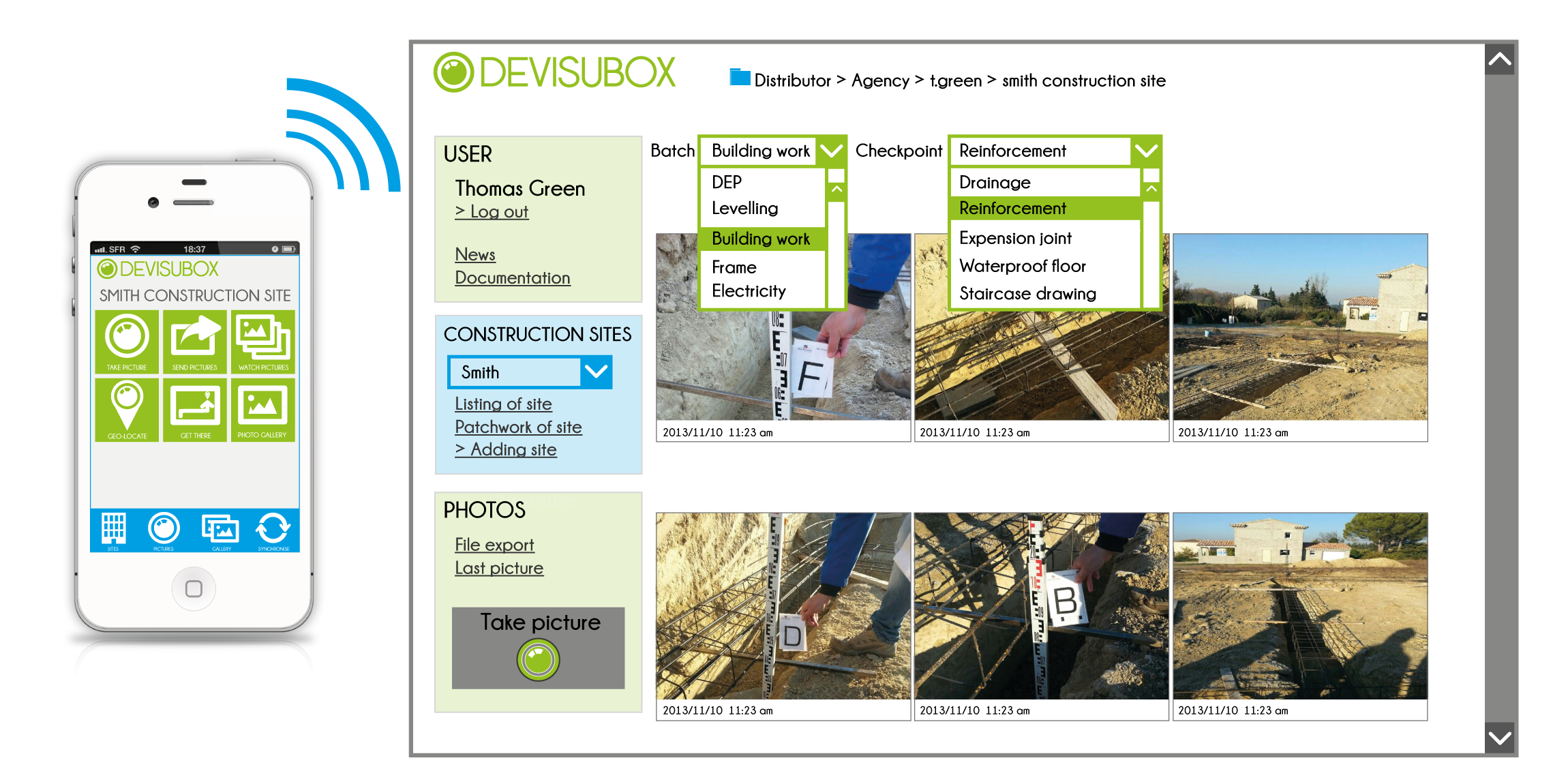 Photos and information are entered with real ease: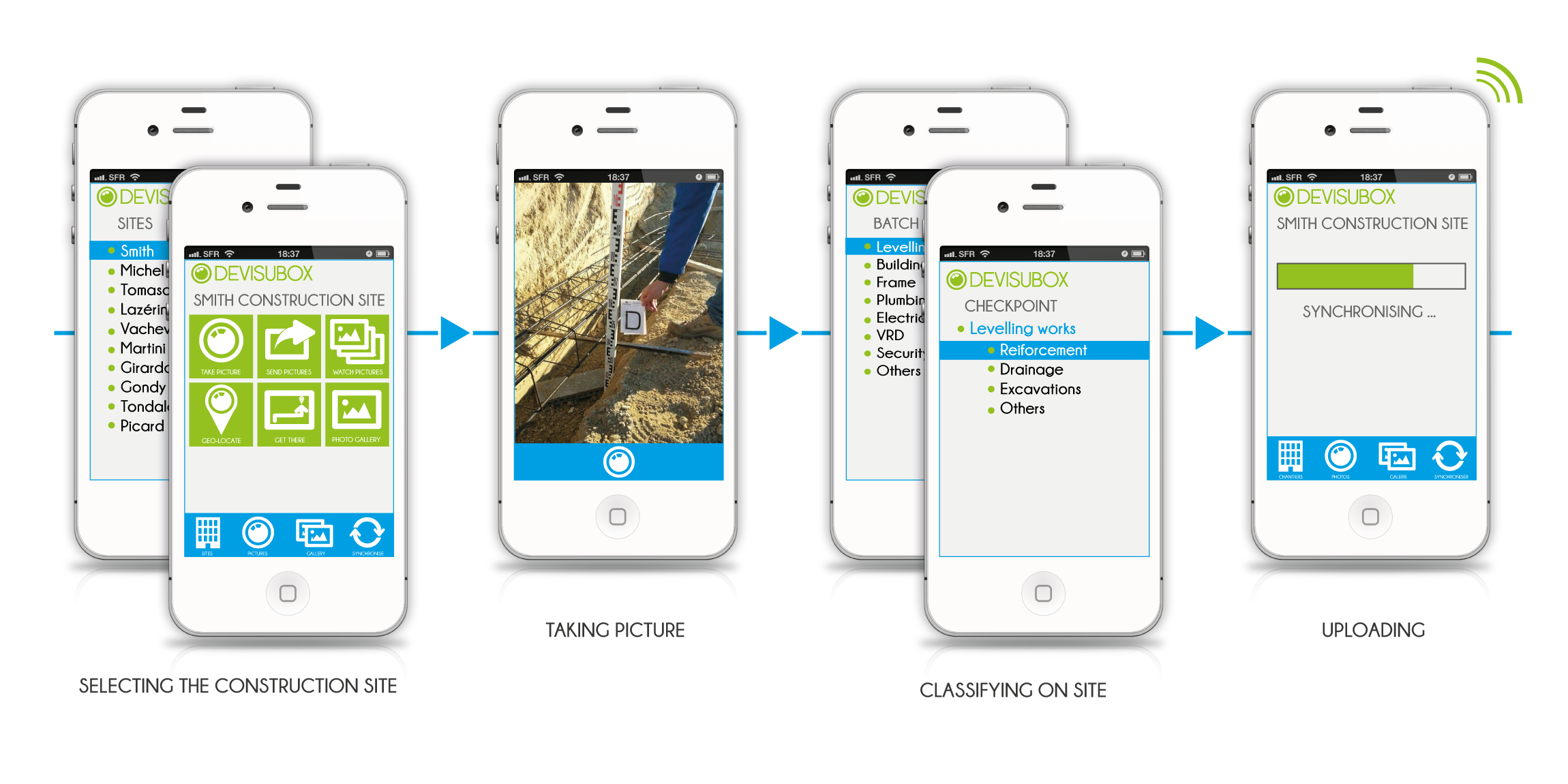 Sorting sections are configurable. You can, for example, choose to sort by batch (masonry, plumbing…), then specify a test point (iron framework of foundations…).
By default, photos are for internal use, but it is also possible, by a single click on the telephone to send them to your clients or to your partners (insurers, design offices, suppliers).
Management of technical information on the platform
Photos taken are accessible on the interface with technical filters, accessible in accordance with levels of user rights (partners, subcontractors, teams):